Whenever we go to Grampa's my boys look forward to a few things, two of which are playing in nature and playing with his young neighbor!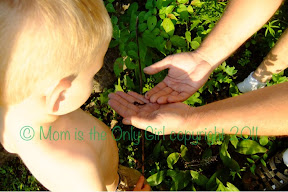 Uncle Craig and Aunt Lisa are both into science, too, so my boys were totally in their element with them exploring. One night they went on a creepy crawly search. They found centipedes, potato bugs and salamanders! That's a salamander in Uncle Craig's hands (above).

Of course a trip to Grampa's always includes a fossil hunt. In the above pic Aunt Lisa and Uncle Craig found creepy crawlies, but the boys were checking out the fossils!