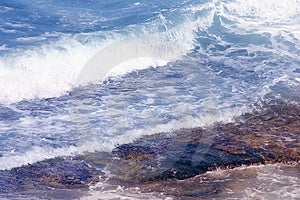 © Photographer Joseph Cortes | Agency: Dreamstime.com
Remember how Cutie Pie was fascinated with ocean experiments a little while back? (see here and here) There was one experiment we didn't get to do until recently. We made a water glider and tested it in the tub. This was an experiment we saw on Popular Mechanics for Kids TV show, but I have not been able to find a link to it, and I also neglected to take pictures of our glider before the tiniest hands in my home pulled the glue off, so I'm just sharing how we did it. Please comment if you find the link!
Materials:
plastic (like from a clean milk container)
hot glue
sugar cube
metal washer
tub full of water
First, make the glider:
Being careful, cut triangles out of a flat area plastic, one big, two small, hot gluing one small triangle to the top, one to the bottom so it looks like a glider, or plane with wings to the side and to the top and bottom as well (I wish I could say 'see below' and have a picture for you!) This takes a bit of coordination and care since you are dealing with scissors and hot glue.
Then, take your sugar cube and hot glue that to the bottom nose of the glider and hot glue the metal washer to the sugar cube.
Once your glider is ready, find a body of water, preferably one that is safe and that you can retrieve your glider from easily (hint, a tub or pool work the best, but only with parents' permission and following all safety precautions.)
This is where my boys hypothesized what would happen when we let the glider go. We actually did this experiment twice, at their request.
The first time we tried this with warm, bath temperature water and Sweet Pea hypothesized it would glide down straight and when it hit the bottom it would go back up while Cutie Pie thought it would go in loops underwater for a long time then float back up.
The second time we did this in cold water and Sweet Pea thought it would just float and Cutie Pie thought it would slither along making bends and curves and even go upside down.
What do you think happened? Did the glider float? What happened to the sugar cube and/or the washer? How many times do you think we've repeated this experiment since?